17 Nov

Driven by its coastal location, Carteret Community College seeks to become a hub for the community
Driven by its coastal location, Carteret Community College seeks to become a hub for the community
Molly Osborne, EdNC.org
November 16, 2020
The view from Carteret Community College President Tracy Mancini's office is one of the better office views I've seen in my travels to community colleges across the state. A grassy lawn punctuated by live oak trees gives way to the sparkling blue waters of the Bogue Sound just about 100 yards from the building. Directly across from the college sits the narrow strip of land that hosts Atlantic Beach, Pine Knoll Shores, and Emerald Isle.
Carteret Community College is shaped, more so than many colleges, by its unique geographic location. Stretching more than 60 miles from top to bottom (not including abandoned Portsmouth Island), Carteret County is home to some of North Carolina's most beautiful beaches. During the summer months, the county population more than triples in size as North Carolinians and out-of-staters alike flock to the area.
Unsurprisingly, tourism is a major driver of business and industry in the region. Ten of the top 25 largest employers in the county are in either retail trade or accommodation and food services. Other industries are closely tied to the water, including boat building and aquaculture.
Carteret Community College's location on the coast provides many opportunities and challenges, both of which were evident during a recent visit in late October.

Carteret County
Population estimate July 1, 2019: 69,473
Race/ethnicity: 90.1% White, 5.6% Black, 4.4% Hispanic or Latino, 2.1% Two or More Races, 1.3% Asian, 0.6% American Indian
Median household income (2018 dollars): $54,428
Persons in poverty: 9.8%
Owner-occupied housing unit rate: 72.2%
Households with a broadband internet subscription: 82.4%
High school graduate or higher: 91.1%
Bachelor's degree or higher: 28.4%
Source: U.S. Census Bureau QuickFacts
The challenges of coastal living
For the past several months, the view from Mancini's office has included a bright orange fence (which you can see in the photo above) thanks to Hurricane Florence.
Florence, which hit North Carolina hard in 2018, caused significant damage to the college. Following the storm, the college partnered with the Coastal Federation, National Oceanic and Atmospheric Administration, and National Fish and Wildlife on a grant to convert 1,400 feet of shoreline on the edge of their campus to what's called a living shoreline.
"Living shorelines are more resilient to storms and hurricanes," Mancini explained, "and it will also support a habitat with marsh grasses and oysters."
To do this, they first have to remove the existing wall, smooth down the shoreline, and then build granite sills that go out about 20 feet from the shoreline, Mancini explained. The sills will break the waves coming in but still allow for silt and other organic materials to filter in to the shoreline. When construction is finished in the spring, the college plans to host a volunteer grass planting project.
Mancini is excited for this project to be completed. She said the NC State Center for Marine Sciences and Technology (CMAST), which is located on Carteret Community College's campus, has a living shoreline, and they have not experienced the same amount of damage that the college has from recent hurricanes. All told, it is a $1.4 million project, but the college only had to put in about $10,000, Mancini said.
While Mancini is hopeful the living shoreline will help, Carteret Community College will continue to have to deal with effects of hurricanes — one challenge of being located in a coastal community.
The particular shape of Carteret County also poses a challenge for the college. It takes more than an hour to drive from one end of the county to the other end according to Logan Okun, director of marketing and public information. The college is located in Morehead City, which is about 25 minutes from Cedar Point at one end of the county and an hour from Cedar Island at the other end. That means some students are commuting long distances to class.
The pandemic shifted classes online last spring, although the college has brought many classes back in-person since then. This fall, about 40% of the college's classes are online with the other 60% being held in-person. Online classes remove the barrier of travel, but not everyone has broadband access, Mancini said. The U.S. Census Bureau estimates 82% of households in Carteret County had broadband internet in 2014-2018.
A final factor is both an opportunity and a challenge, and that is the draw of beaches. The beaches in Carteret County bring tourists, whose dollars support local businesses and bring tax revenue to the county. In July, the county broke their all-time occupancy tax revenue record thanks to people looking to vacation closer to home during the pandemic.
The beaches also bring people who decide to buy vacation homes in the area, which boosts property tax revenues. Carteret County spends a quarter of their annual budget on education, including about $2.67 million for the community college, so the tax revenues generated from tourists are important.
However, tourists and vacation home owners do not provide the same benefit to the college as year-round residents. They are unlikely to enroll in classes and also unlikely to support the college monetarily. Even if they own homes in the county, they are often not connected to the community and don't donate to the college, Mancini said.
The impact of tourism also means that many of the local businesses are in the hospitality industry — an industry known for largely low-wage service jobs. Carteret Community College, like every community college, partners with local industry to support workforce training. They are currently nearing completion of a brand new culinary building, an impressive space that will house their culinary, baking and pastry, and hospitality programs. And while there is real demand for skilled employees in this industry, graduates often have to work multiple jobs to make ends meet if they aren't a business owner or executive chef.
"When you get to a certain level, there's only so many jobs," culinary instructor James Clarkson said. "So it becomes limiting. There's a lot of entry-level jobs, and what I tell my students is if you're not tied down with marriage, relationships, and kids, travel. You can get a job anywhere on the planet."
Clarkson said one career path he's been telling his students about is a CDM, or certified dietary manager. Instead of becoming a registered dietician, which requires a four-year degree, students can get an associate degree and a CDM certification. Clarkson said nursing homes, health care organizations, and even school systems are hiring CDM's. "We have these conversations every day," he said.
Turning challenges into opportunities
Despite these challenges, Carteret Community College is finding ways to turn them into opportunities. As part of the living shoreline project, the college is going to build two observation decks overlooking the sound. They are also planning to have a floating dock with a kayak launch.
Once the shoreline project is complete, Mancini is eyeing an additional project to draw more residents to the campus: a shoreline nature trail. If you've been to Washington, North Carolina, you may know the walking trail along the shoreline of the Pamlico River. Mancini hopes to add a similar nature walk complete with kiosks that give residents information about the college in addition to nature facts.
"Right now, the public can't really walk along the shoreline here and see what we have," Mancini said. "So we have terrific plans to make a walking trail with educational kiosks along the way that tell about some of our programs, the sound, the plant life here, the trees, the live oaks."
In addition to the shoreline trail, Mancini hopes to bring more community members to their campus through their new culinary center. The $10.1 million building will house a 150-seat event center with an attached patio overlooking the sound. The patio, which will be called the Beaufort Wine and Food Patio, will be complete with a grill and a wood- and gas-fired outdoor pizza oven.
"We expect to be able to rent it out, and we'll be able to host statewide meetings here, too, which we're excited about," Mancini said. "It's our first new building in over a decade, so it means a lot to us and the community because it shows we are growing."
The event center will host the Escoffier dinner series, which is an annual three-course dinner series showcasing the work of Carteret Community College's French foreign exchange culinary program. Each year, the school selects three to four students to participate in a month-long foreign exchange program where the students live and work with chefs in northern France. These students commit to hosting the Escoffier dinner series when they return to raise money for the next group of exchange students.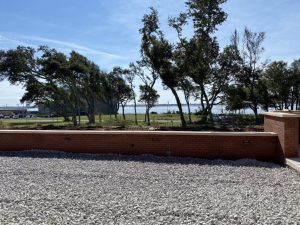 To counter the difficulty posed by the length of the county and limited broadband access in some areas, the college applied for and received a $960,000 grant from the U.S. Department of Agriculture to build eight digital access points throughout the county. These access points will be located in partner organizations, including high schools, clinics, and libraries throughout the county, and will enable students to take online classes.
All of these efforts are geared toward Mancini's goal of making the college more of a hub for the community — both by bringing access to classes out into the community and by bringing more members of the community onto their campus.
Republished from EdNC.org.