26 Mar

Maritime museum specialist seeks college courses
Maritime museum specialist seeks college courses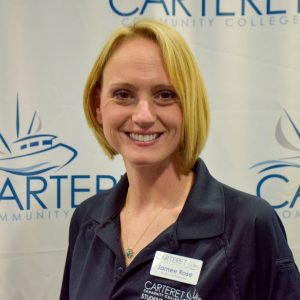 Morehead City, N.C. (March 26, 2021) – When Coronavirus shut down the state of North Carolina, the North Carolina Maritime Museum could not welcome visitors to its three locations across the state in Hatteras, Southport, and Beaufort. Jamee Rose, a Museum Specialist at the NC Maritime Museum in Beaufort, is responsible for designing and developing museum exhibits from maritime research and information. She quickly realized that the pandemic presented new difficulties in how to engage people who couldn't come to their museum in-person.
Rose had already taken a few classes at Carteret Community College in computer programming over the last few years. When the pandemic hit, she decided if she went back to school to learn web design and computer programming that it would help her with her current predicament.
"The pandemic caused the Maritime Museum to take a new approach as to how to get their collections to the public who could not visit their locations and think about ways to stay relevant while we were closed," said Rose. "I had taken a few classes in computer programming, but hadn't committed to earning a degree in Information Technology. When the pandemic hit, I realized that web design skills would help me advance the Maritime Museum's mission and allow me to take my job to the next level."
Rose approached her Human Resources department to see if any funds were available for classes. With the doors shuttered and no idea when they would open, of course, there were not. Fortunately, Rose received a scholarship from the Pine Knoll Shores Women's Club that paid for her entire year of school. Rose is now enrolled in the Associate in Applied Sciences in Information Technology — Software/Web Development concentration program.
"When I worked for the North Carolina Museum of Art, we developed digital exhibits that could be accessed by the public or researchers," said Rose. "I wanted to take that concept and apply it to the exhibits at the Maritime Museum. We have so many photographs and binders of information that researchers across the world would love to access."
Her new skills have helped her do just this. She has developed two new exhibits that can be streamed to the public.
Since starting at Carteret Community College, Rose has been inducted into Phi Theta Kappa, is a member of the National Society of Leadership and Success, and serves as a Student Ambassador for the College.
"As an Ambassador, I feel that I have a unique position to offer to students," stated Rose. "I am an adult learner who is going back to college to learn a new skill set to help me advance my workload in my current position."
If you are interested in learning more about taking classes at Carteret Community College, visit www.Carteret.edu or call Student Services at 252-222-6060. To learn more about the North Carolina Maritime Museum, visit ncmaritimemuseums.com.